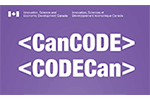 On February 25th to 28th, 2019, Bot Camp hosted a series of free professional development teacher workshops. Thanks to generous grants from FIRST Robotics Canada and the government of Canada's CanCODE program, teachers learned how they could implement robotics and coding into their classrooms. Topics included:
Curriculum Integration Opportunities with Robotics and Coding

Math: Numeracy, Variables, Algebra
Science: Simple Machines, Form and Function, Systems in Action

Robotics and Coding Classroom Best Practices
Robotics Coding Environment Progression: Graphical, Scratch, RobotC, Java (AP Computer Science)
Hands-On Interactive Activity: RoboSoccer – Beginning to End, Behind the Scenes
Q&A Session
The workshops were presented by Bot Camp founder Shawn Lim, former robotics teacher at Crescent School, winners of the 2013 FIRST Robotics Competition (FRC) World Championships. He was a founding member of FRC team 188, the very first Canadian high-school competitive FRC robotics team, and attended university at General Motors Institute on the first-ever robotics scholarship awarded to a Canadian student. For 8 years he served on the Board of Directors of FIRST Robotics Canada, and was appointed Director of District Implementation. Most recently, he taught at St. Clement's School, delivering robotics and computer science programming specifically for girls. He began his teaching career in the TDSB at Runnymede CI, and has been an active participant, mentor and leader in the educational robotics community for over 22 years.
"Material was very well prepared and delivered on what it promised. I will tell my principal that my absence from the classroom was more than justified and I'll take what I learned into my own classes. This was a really good example of what a PD session can be in a tight time frame."

-Andrew Peterson

"Loved that it was so open and knowledgeable and willing to share. Thanks so much… the best robotics workshop I've been to and the most informative robotics visit that I've experienced."

-Brian Harriman

"I am an elementary teacher and found the PD workshop I attended to be very informative and interactive. Bot Camp staff were very helpful, and I am so glad I attended. I would love the opportunity to attend more workshops in the future."

-Sandra Emer

"I really enjoyed the Bot Camp robotics workshop. The facilitators were very passionate, knowledgeable, and willing to share information and expertise. The space was excellent for learning and building. The format of the workshop, intro, focus on building, and testing/playing was engaging. I would recommend Bot Camp for future PD."

-David Nolan